Glydsphere App
— Custom sounds made for you
HOW IT WORKS
The App is packed with intelligent gaming algorithms that translates the subtlest of movements in your driving into EV motion language to deliver high-quality, vibrant, delay-free audio. Accelerate as a Masterati, decelerate as a Jet-suits flying car, and come to a stop as a UFO.
Take it a step further and connect OBDLink MX+ to rev in real-time, currently available for all Tesla Model Y & Model 3, and Tesla Model S & X manufactured after 2021.

APP FEATURES
Sounds are tailor-made for EVs and the way they move
Sophisticated algorithms use real-time data to detect car motion
Unlock exclusive sounds as you gain spheres using the App
Gain new sounds with every app feature release
Control the volume through your phone
Change the sound depending on the occasion, whenever and wherever 
Stand out from the crowd
With your own custom-created audio
Our top prority is to make high-performance EV audio work for you and that includes freedom of choice. This is why you have the creative license to create and upload your own custom-audio. The world needs to hear you.
Learn More
Demo Sound Library
We group our high-performance acoustics into 3:
Iconic Engine.
Exhaust sound from sports car engines
How much is the App?
The App is free for customers who own the Glydsphere Speaker, forever. Otherwise, for the price of a coffee or a meal you can access a library of 40+ audios with regular new releases. The subscription service costs $3.99 per month or $29.99 per year (29% saving).
What sounds do you offer?
We have a wide range of over 40 EV high-performance sounds. We categorize our diverse audio range into three types. Iconic engine are exhaust sounds from classic sports cars. All-time shows are ageless sci-fi vehicle sounds from movie and TV shows. Futuristic are state-of-the-art vehicle sounds such as spaceship audio and beyond. Our audio library is regularly improved and new sounds are added in every app update.
Can I create my own sounds and upload them on the App?
Yes, you can. You have exclusive access to the sound sets you make unless you share your QR code. There is no limit to the number of sounds you can make subject to your phone's storage capacity. Learn how to create your own sounds.
I want to use my phone and the App at the same time, how can I make it work?
The Glydsphere App works with all iOS and Android devices. You can use an old phone for the App to free up your current phone for day-to-day use, and it will work perfectly.
Some sounds in the App are locked. How do I access them?
You can unlock these expansive sounds once you collect enough spheres. You collect spheres by using the App when driving. Once the sound is unlocked it is forever yours.
Does the App respond to my car's acceleration and deceleration?
Yes, that's exactly what it does in real time. Take it further by connecting OBDLink MX+; the App reads precise signals such as EV speed and gas pedal position, allowing you to rev in Park.
How do I ensure the App reads my car motion precisely?
For best performance, every time you start your ride attach your phone to a car phone holder and choose the performance audio while in Park. Keep your phone attached for the duration of the drive. You can change the sound as many times as you'd like even in Drive. If you have an OBD Link MX+ you can bypass the above guide.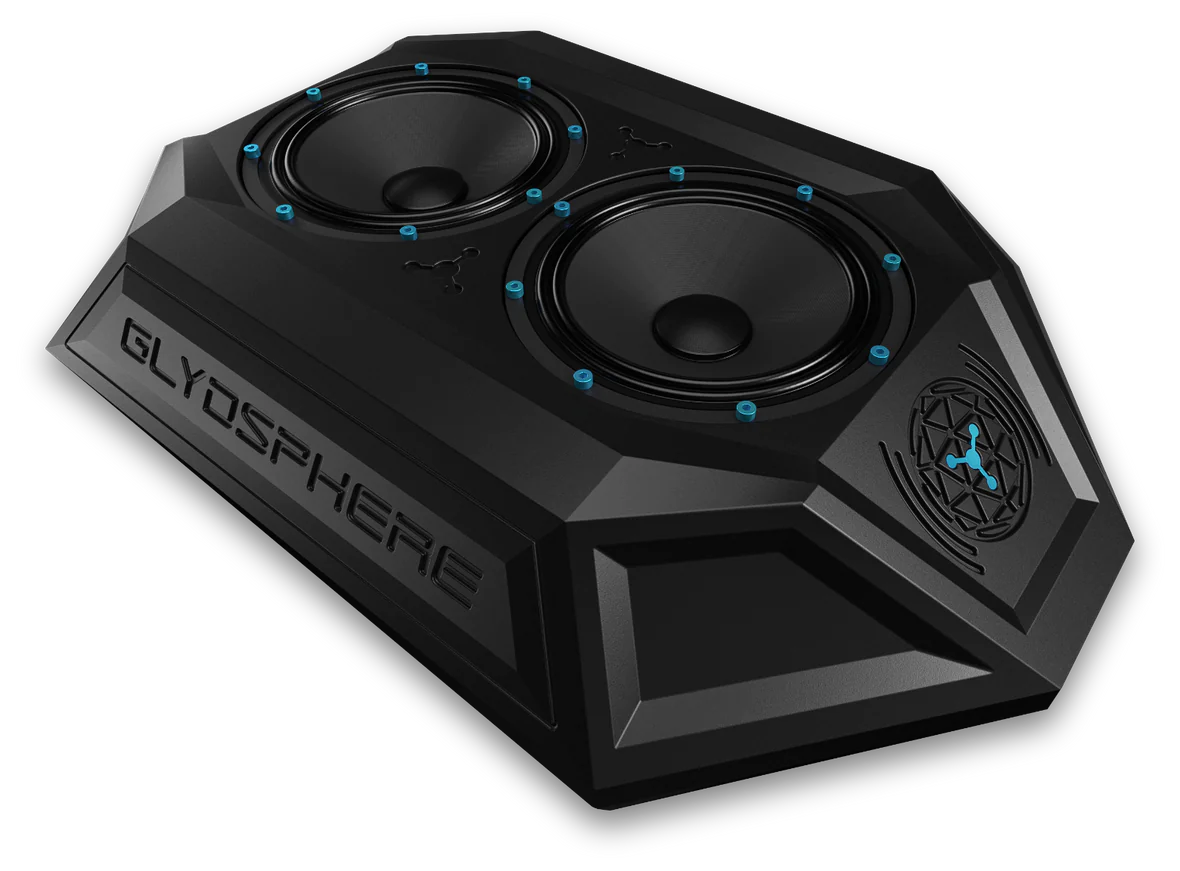 Level up with the Glydsphere speaker
The app subscription is included with the purchase of the speaker for free, forever. Get the most out your EV Performance Audio with Glydsphere Speaker. The leading sound system is created using cutting-edge technology and developed with outstanding materials. Designed for EVs exclusively.
Statement-Making Motion Audio that makes all the difference.